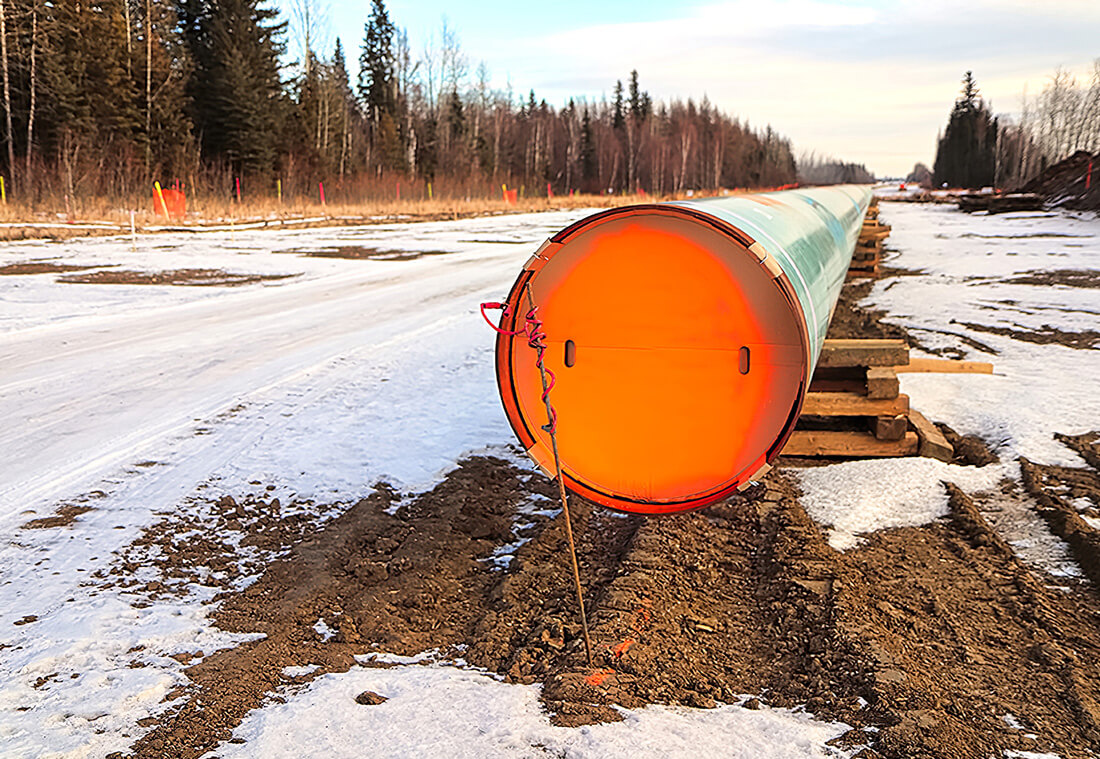 19 Feb

Sustainability Check/Fact Check – Keystone Pipeline Job Losses Getting A Lot of Attention
HOW MANY JOBS ARE WE LOSING? DOES THE CLEAN ENERGY ECONOMY OFFER REPLACEMENTS?
If you've been on Facebook or Twitter recently, you've probably seen the posts. After President Joe Biden's January 20, 2021 executive order revoked the Keystone Pipeline XL project permit, a flurry of social media backlash ensued accusing the president of being a destroyer of jobs, and a leader who is putting us at the mercy of the Middle Eastern oil markets. But how factual are these claims?
In an age of disinformation and fake news, it's easy to get riled up on the basis of a Facebook or Twitter post, or even a soundbite from a trusted news source or favored politician. That's why we did some research and put together this article. We thought the Facebook flurry needed a little more context.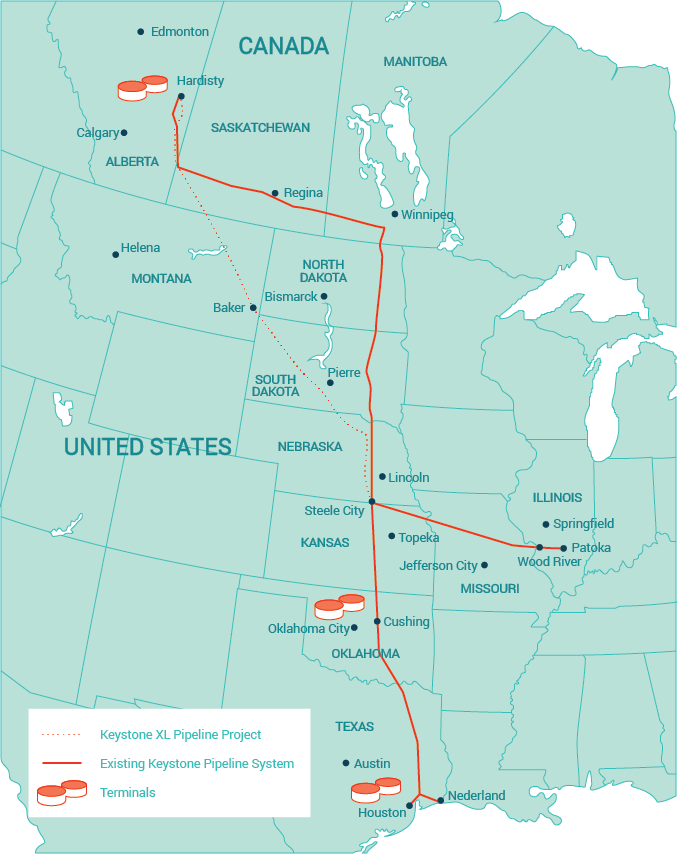 FIRST, REAL QUICK… WHAT IS THE KEYSTONE PIPELINE?
The Keystone Pipeline project in question is actually the fourth-phase extension of the already existing Keystone Pipeline which runs from the tar sands oil fields starting in Hardisty, Canada (midway between Edmonton and Calgary) to Houston, Texas. The 2,151 miles of existing pipeline already has the capacity to transport 700,000 barrels of oil per day into the US, delivering it to refineries located along the route and a major storage and distribution facility in Cushing, Oklahoma. The fourth phase of the pipeline would have created a shortcut picking up the line in Alberta and rerouting it through Montana and South Dakota to rejoin existing pipeline in Nebraska.
HOW MANY JOBS DID THE PIPELINE CREATE? HOW MANY DID IT HAVE THE POTENTIAL TO CREATE?
The number of jobs that this pipeline was associated with has ranged from the 28,000 that former president Trump claimed it would create back in 2017 when he reinstated the project permit, to the 11,000 number that has been touted by the GOP's official Twitter account after President Biden revoked the permit (pictured below), to the 1,000 jobs that Calgary-based TC Energy (the project owner) says were actually impacted by the order.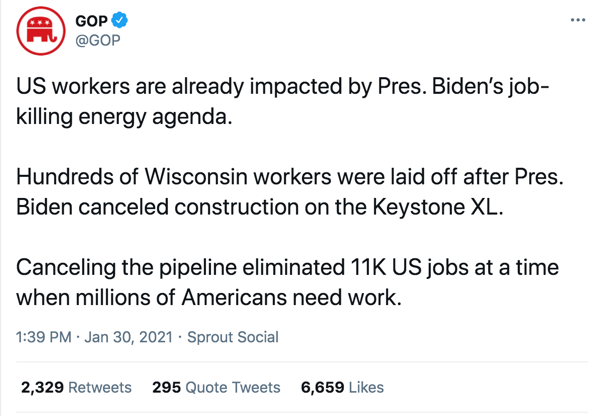 ACTUAL JOBS VS POTENTIAL FUTURE JOBS
ACTUAL JOBS
So, what's the real number? First of all, it's important to make the distinction between actual jobs and potential future jobs. According to a press release put out by TC Energy (the project owner, otherwise known as TransCanada Energy Corporation) and hosted on worldoil.com, the number of actual existing jobs that were lost is 1,000, but the company states that those jobs were held by both US and Canadian workers. Because TC Energy failed to break out those numbers, no one, it seems, can say for certain how many of those jobs were actually employing US workers – which is an important consideration.
POTENTIAL FUTURE JOBS – 8000, NOT 11,000
As far as the potential future jobs associated with this project, no one is quite sure where former president Trump got the 28,000-job number that he claimed would result from the pipeline expansion, so let's set it aside and look at the 11,000 number instead. This number, which is used by politicians and others to criticize President Biden's order likely comes from a TC Energy press release from October 2020 that claims it would employ 8,000 US workers (resulting in $900 million in gross wages) to construct the pipeline for a total of 11,000 US workers (for a grand total of $1.6 billion in gross wages) in TC Energy's employ in 2021.
Taking a closer look at these numbers, we see that – as stated by TC Energy – the new pipeline construction jobs in the US is 8,000. This means that reports using the 11,000 number as one associated with the canceled project are incorrect, and this is verifiable through the project owner's own data.
ACTUAL AND POTENTIAL FUTURE JOBS – PERMANENT VS. TEMPORARY
Next, we need to consider the type of jobs that that 8,000 number represents. According to the Austin-American Statesman, a 2014 State Department Report came up with an estimated 10,400 jobs associated with the Keystone expansion. It noted, however, that these jobs "would be for seasonal construction work lasting four to eight-month periods." Another important distinction.
So, yes, technically, the pipeline project did have the potential to create thousands of jobs, but those future jobs were always temporary with zero chance of being transformed into permanent ones. In fact, the article goes on to state that the number of permanent jobs created by this expansion was estimated at fifty. 5-0 – and some of those permanent positions would be located in Canada.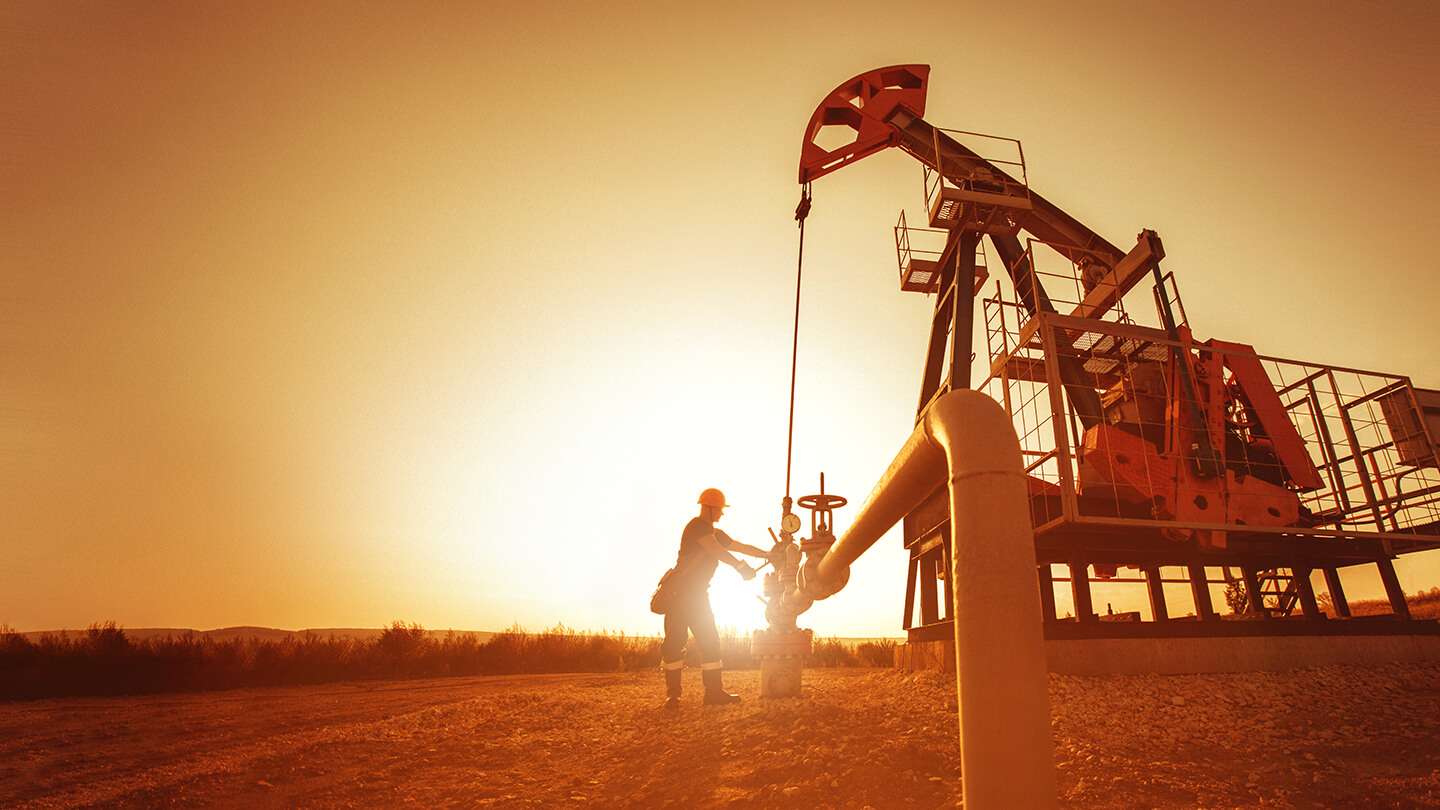 HOW MUCH HAS THE KEYSTONE PIPELINE COST THE US?
The Global Energy Monitor reports that the completed (existing) Keystone Pipeline project cost the US government $5.2 billion, with the expansion slated to cost the US another $7 billion. The Monitor also reports that TC Energy is the sole owner of the project.
As far as environmental impact, the existing pipeline has already been the source of several spills. From the National Resource Defense Council (NRDC):
Since it first went into operation in 2010, TC Energy's original Keystone Pipeline System has leaked more than a dozen times; one incident in North Dakota sent a 60-foot, 21,000-gallon geyser of tar sands oil spewing into the air. Most recently, on October 31, 2019, the Keystone tar sands pipeline was temporarily shut down after a spill in North Dakota of reportedly more than 378,000 gallons. And the risk that Keystone XL will spill has only been heightened: A study published in early 2020, co-authored by TC Energy's own scientists, found that the anti-corrosion coating on pipes for the project is defective from being stored outside and exposed to the elements for the last decade.
Because tar sands oil – which is the type of oil transported on the Keystone is more corrosive than other types of lighter crude oil, it is very possible that these leaks will continue to be an issue. Add to this, continues the NRDC report, the fact that tar sands oil is highly toxic, if spills occur close to water systems, farms and ranches it would be devastating both economically and from a public health perspective.
WILL THE CANCELLATION OF THE PROJECT MAKE US MORE RELIANT MIDDLE EAST OIL?
The United States Energy Information Administration (EIA) states that the US already gets 56% of crude oil and 49% of petroleum imports from Canada without the Keystone expansion, using existing pipeline infrastructure. Meanwhile, imports from the Middle East have been in decline since the 1970's. Approximately 13% of crude oil and 11% of petroleum oil came from Persian Gulf countries in 2019. We can't predict the future, but as we transition into a clean energy economy, and become even less reliant on oil, we imagine that trend will continue.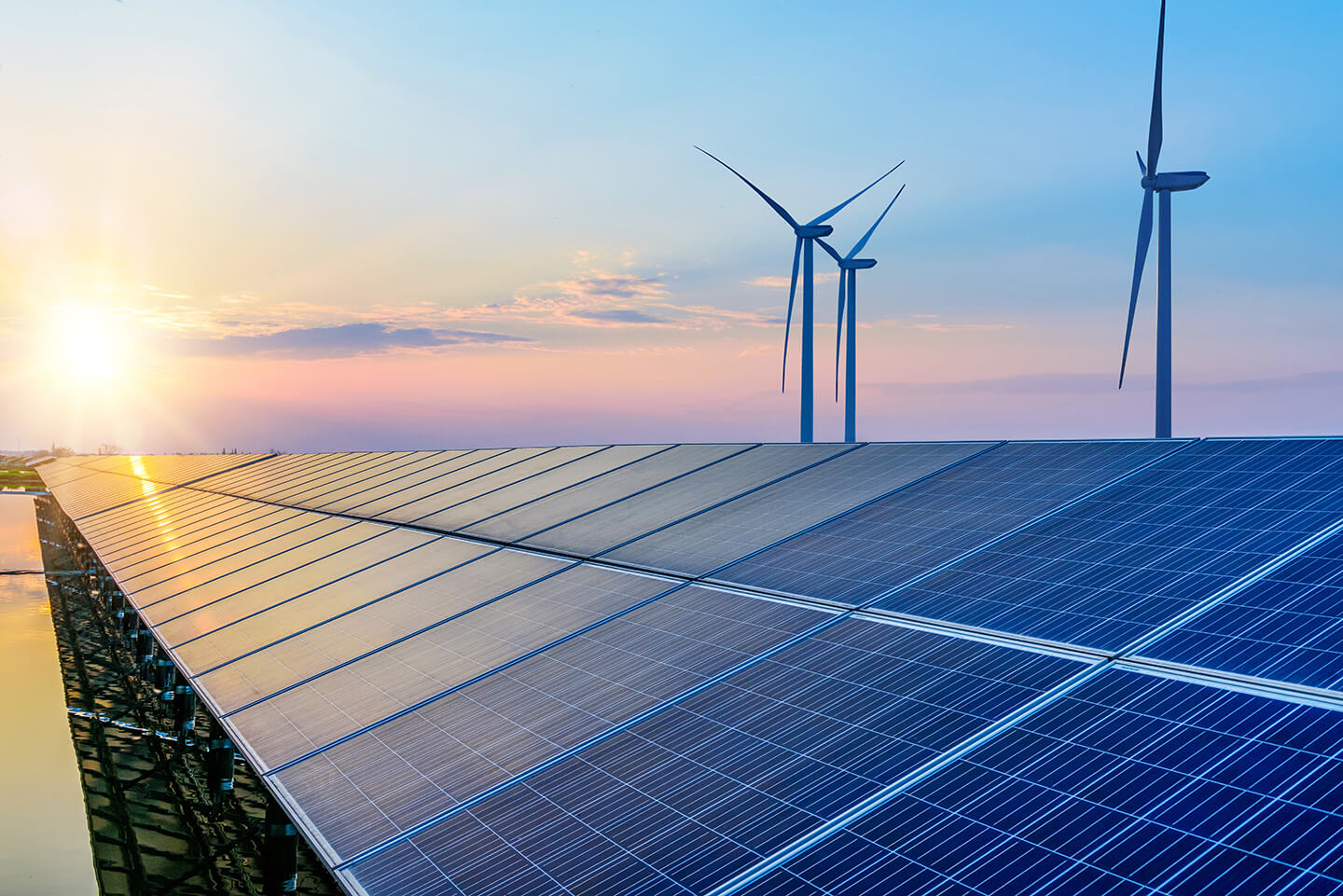 SO CAN CLEAN ENERGY JOBS REPLACE THOSE LOST BY THE KEYSTONE PIPELINE EXPANSION CANCELLATION?
Ultimately, no matter what, it's always bad news when someone loses a job – even if it was temporary, and unfortunately, because the cancellation of the Keystone expansion, many people lost income and work that they were depending on to get them through during a very trying time. This is an effect of transitioning to a clean energy economy that cannot be ignored or glossed over. And the truth is that transitioning from a fossil fuel energy economy to a clean energy economy is going to continue to result in ongoing job losses and not just because of cancelled oil pipeline projects. Across the fossil fuels industry, clean energy is having an impact on jobs, but the fact remains that this transition has passed the tipping point. This is happening, plain and simple.
The reality is that the economic case for clean energy is too strong to be denied or reversed, and though this transition is and will continue to result in job losses in some areas, overall, it is driving growth, exponential job creation, and cheaper energy. This drive for clean energy implementation is now past being a political effort or an environmental imperative. Market forces are now in control. One of the biggest examples of this is the coal industry – Due to cheap natural gas and renewables, the coal industry has been shedding jobs for years. In fact, even though former president Trump campaigned on bringing back coal, he couldn't do it, and US coal jobs were down 24% from that start of his presidency to November, 2020. From October 2019 to October 2020 alone, the coal industry shed 8,000 jobs. This job loss wasn't policy driven or environmentalist driven – it was caused by market forces. It's just plain cheaper to use natural gas and renewables than it is to mine and refine coal.
This job loss, however, is countered by job growth, which is a very good thing. According to a recent article from energy industry publication E&E News:
Bob Pollin, an economist at the University of Massachusetts, Amherst, estimates that a path to meet the Intergovernmental Panel on Climate Change goal of reaching carbon neutrality by mid century would generate 4.5 million jobs per year, a figure that spans renewable jobs as well as the construction and trades required to build new assets and infrastructure.
In comparison, he calculated that fossil fuels jobs would be lost at a rate of 25,000 a year, on average.
The article goes on to say that government policies designed to relocate, retrain and support workers in transition can go a long way in easing the pain.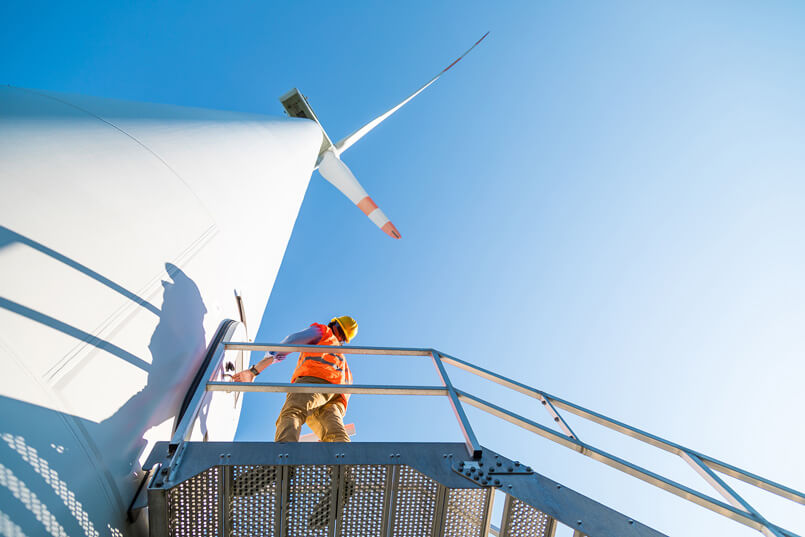 CLEAN ENERGY JOBS ARE HERE TO STAY
Renewable energy, clean energy, energy efficiency, energy storage – the technologies behind this energy transition represent the future. We can resist and refuse to change, but that will not change the trajectory that we are on. We believe that the transition to a clean energy economy is an exciting opportunity for growth, and we can shape that growth to be inclusive of displaced traditional energy workers – if that is where we put our effort and energy, and if that is what we demand from our leadership.
A recent report titled Clean Jobs, Better Jobs, from a partnership between leading clean energy research institutes states:
Overall, median wages in clean energy are significantly higher than median wages in sectors such as retail, services, recreation and accommodations, especially when it comes to entry-level wages. Solar energy workers earn $24.48 an hour, while wind and grid modernization jobs pay on average more than $25 an hour. Energy efficiency – the largest employer in the nation's energy sector – supports a median hourly wage of $24.44, about 28% above the national median.

Many clean energy jobs also paid better than fossil fuel jobs. Jobs in coal, natural gas and petroleum fuels paid $24.37 an hour, while solar and wind jobs combined for a $24.85 median hourly wage. Clean energy industries also employed about three times more workers than fossil fuels did in 2019, and, unlike fossil fuel jobs, clean energy jobs are available in every state, regardless of geology or geography.
Americans want quality job opportunities – and the clean energy economy is already delivering. If we are truly concerned about the displaced energy workers, we need to demand from our leaders that these workers are included and accounted for in the transition. Maybe we could use the $5 billion we just saved on the Keystone expansion for job retraining, relocation, pension protection, unemployment and health care.
Ultimately, there are options, and we have the ability to influence policy by uniting our voices.
IoEnergy – Supporting People, Profit and Planet Through Energy Efficiency.