Rex Rapid Extraction Mobile Stretchers
IoEnergy, as part of its multi-faceted building systems solution network, announced its training certification and distributorship with the flagship provider of building extraction safety systems, Rex EMS, LLC.  No other patient transport offers the time and resource advantage of REX and IoEnergy seeks to ensure that
every
commercial and industrial building has the critical lifesaving devices available for when they may be needed most.  "It is better to have and not need than to need and not have", says IoEnergy CEO Danny Krueger.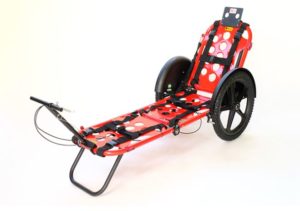 Rex mobile stretchers are ruggedly designed to allow a single responder to rapidly move the injured through the toughest conditions. The aerodynamic frames and unique wheel system support 400 lbs. while providing a 360-degree turn radius for precision handling and stability. The RexONE and the RexDCS are nearly indestructible and nearly maintenance-free. The interchangeable tire systems can quickly be changed out to provide the ability to rapidly move across a variety of surfaces and terrains. The bi-fold frame quickly folds into an easy storage carry case which converts into a backpack making it ready for rapid field deployment.  T
he RexONE's ergonomic design adjusts into multiple positions accommodating the various physical or medical conditions responders must confront. The combination of centered balanced wheels and telescoping pull handle allows a single responder 360°maneuverability and agility to quickly move a patient to safety.