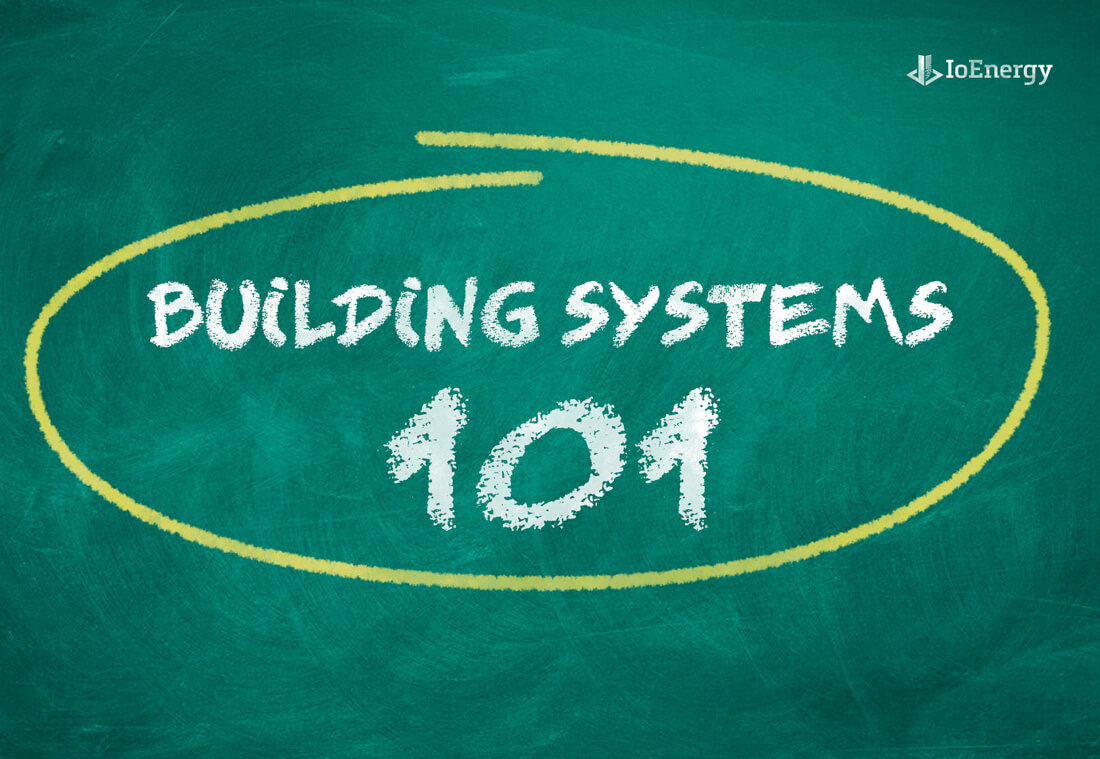 14 Oct

Building Systems Energy Use Breakdown
UNDERSTANDING YOUR BUILDING'S SYSTEMS ENERGY FLOW CAN HELP TAKE THE GUESSWORK OUT OF EFFICIENCY PROJECTS
Building energy efficiency is gaining a lot of attention for its ability to help dramatically reduce carbon emissions and unnecessary energy expenditures. Energy efficiency retrofits and upgrades have the potential to save large building owners millions of dollars over time – but not all efficiency upgrades are created equal. It takes a lot of specialized expertise to know which ones will deliver the kinds of returns that will make them worth the investment. Because capex funds are in such high demand and decision-makers can be apprehensive about signing on to anything but a sure thing, efficiency improvements are often delayed or tabled for another time.
But ignoring energy efficiency out of a fear of making the wrong decision is a choice that can cost building owners big money over time. Every month that a strategic energy efficiency project is delayed is another month of paying too much (sometimes way too much) in energy costs. But there is a way forward. Overcoming project inertia begins with developing a better understanding of building systems, their individual energy profiles and the ways in which they impact each other's processes. This information is key to creating a strategic energy management plan that addresses both energy use and cost savings and leads to better operations overall.
BUILDING SYSTEMS – AN ENERGY USE BREAKDOWN
A good place to start building a roadmap is to understand, in general, which building systems use the most energy.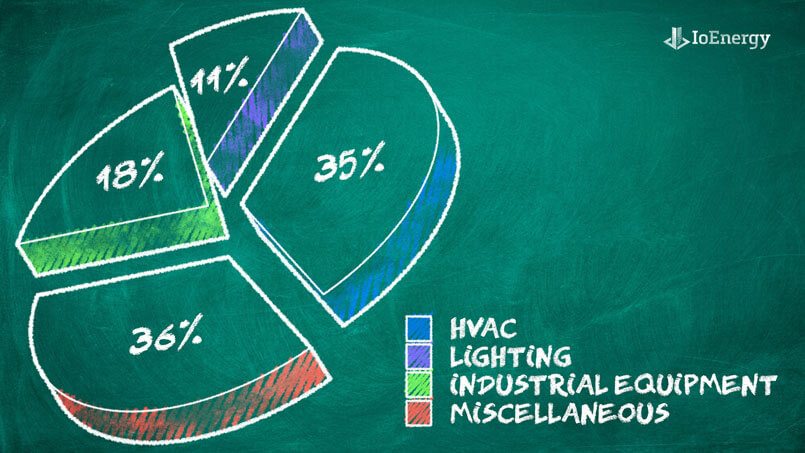 BUT UNDERSTANDING GENERAL ENERGY USE IS JUST THE BEGINNING…
By looking at this chart, one may assume that energy efficiency projects should begin with HVAC because the biggest returns must be found in optimizing the biggest energy-consuming system, right? Not quite. In fact, the exact opposite is true. Even though HVAC uses the most energy, upgrading HVAC systems should be the last step in what energy.gov calls the "staged approach to building upgrades."
THE STAGED APPROACH TO BUILDING UPGRADES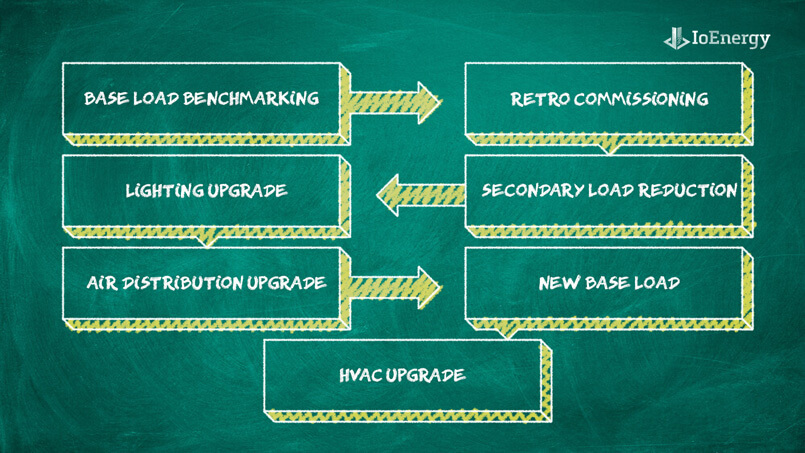 When using a staged approach, we first examine the ways in which each operational process impacts the others, and then use this understanding to improve the operations of building systems, while also being aware of how these improvements impact the functionality of other systems. With this knowledge, we can create a strategic ROI strategy that not only saves the most money and energy over time, but also ensures that equipment retrofits are relational and the entire building system works together.
For example, if you upgrade your chiller before you upgrade your lighting, you may end up spending more than you need to on a chiller that is calibrated to meet the load of a pre-upgrade lighting system. Here is an upgrade scenario that Energystar.gov uses to further explain this point:
…[A] 1 watt per square foot (W/ft2) reduction in lighting load in a 100,000-ft building would allow a chiller capacity reduction of about 23 tons (assuming 80 percent of the waste heat reaches the conditioned space). If a typical chiller costs $450 per ton, then a 23-ton reduction would reduce the first cost of a new chiller by more than $10,000.
UNDERSTANDING YOUR BUILDING SYSTEMS – WHERE TO START?
According to energy.gov, the majority of buildings in operation today were built before 1970. This means, in general, the efficiency of individual building systems is all over the map, and there is no true one size fits all approach that can be applied without a deep dive into the specifics of each individual building. Because of this, it pays to consult with an energy efficiency expert to help you create a project roadmap that will result in the best possible results.
IOENERGY DELIVERS STRATEGIC ROI
IoEnergy has been helping building owners identify efficiency opportunities and develop energy strategies for more than twenty years. Our efficiency experts combine years of boots-on-the-ground experience with a deep understanding of energy policy, government rebate structures and utility incentives to deliver customized energy efficiency reports that take a whole-system view and help building owners gain the most financial return on their improvement projects.
STRATEGIC ROI 
Analyze building systems to identify all efficiency opportunities.
Evaluate the opportunities to determine which provides the highest ROI in terms of energy and operational cost saving.
Create a building improvement roadmap that starts with the efficiency project that delivers the highest financial return.
Use the savings generated from that high ROI project to finance further upgrades that may be necessary but do not offer as big of a financial return.
Everyday you wait is a day you are paying too much for energy. Let us help you build a path to energy efficiency and long-term energy cost savings!  (831) 298-0048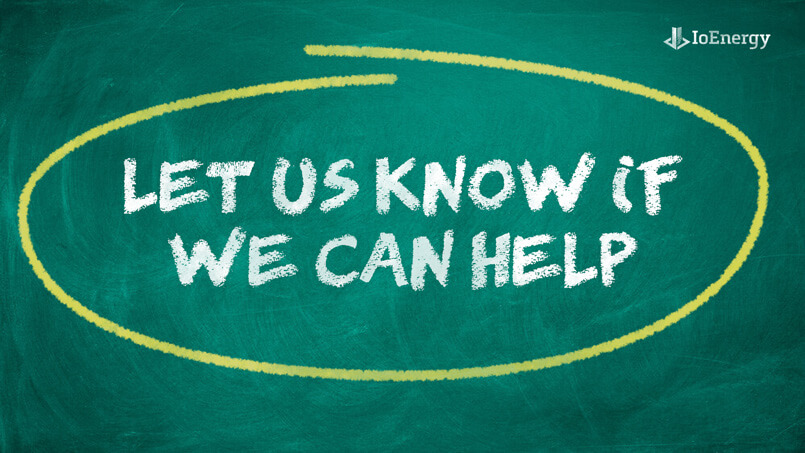 Watch the Video
IoEnergy Solutions – Strategic ROI Building Solutions Experts.
Find Out More Here:
Building Efficiency